At F3 Diamond Products we strive to find an affordable solution to meet and exceed the needs of  any issue you may be facing. We go to great efforts to simplify the success of everyone we do business with. Come check us out, and see what F3 can do for your business.

Blade Straightening and Tensioning

Is your blade on its last legs? Let us check it out, we strive to ensure every customer gets their moneys worth out of every blade. We have several methods for checking the tension, straightness, and general flatness of blades of all sizes. We make certain that every blade that comes through our shop is straight and spins true.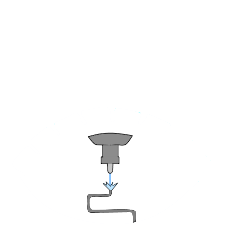 CNC Water Jet
In need of a special part, or unique blade? Our Water Jet is now up and operational for any jobs that require a customized approach.

Re-tipping Services

We have a wide range of diamond segments, if we don't have a segment that fits your needs we also make segments here at our shop. We will re-tip your blades with a segment that's going to get the longest life and the fastest cut, based on the abrasiveness and hardness of the rock your cutting. We use a torque wrench to test the strength of the welds on every segment before the blade leaves the shop to ensure that every blade is a product we can proudly stand behind.

Saw Mantainance

Donec id elit non mi porta gravida at eget metus. Fusce dapibus.
Other Services that we provide
Blade Strenghtening and Tensioning
Why do we need to smith & tension diamond blades and why is it important that we all understand these basic needs? We believe that everyone wants to obtain the best quality and longevity from our blades. A diamond cutting blade will acquire its best quality if it cuts straight and true, which also reduces the chances of reduced longevity issues.